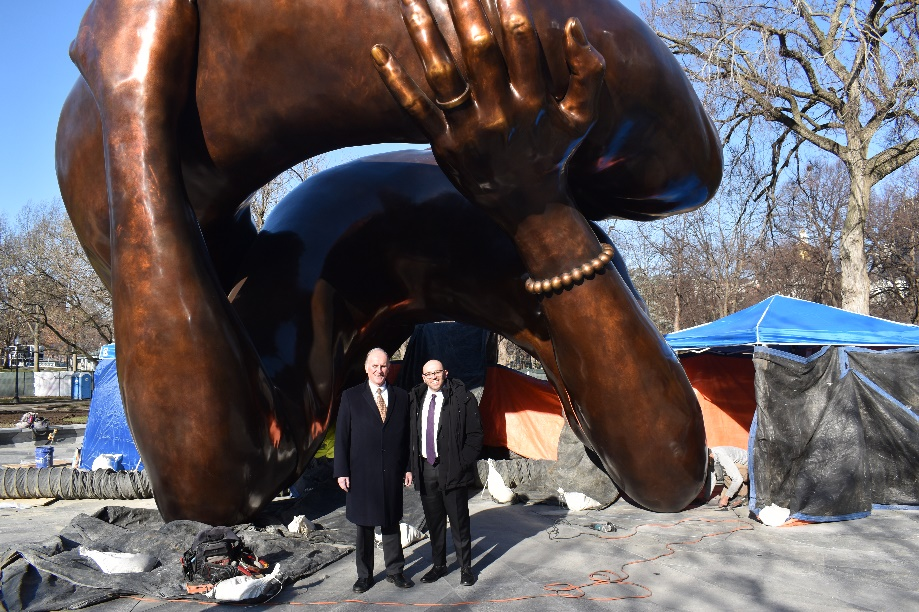 On Friday, January 13th, Rose Law Partners LLP's clients Embrace Boston and The Boston Foundation unveiled "The Embrace," a sculpture on the Boston Common commemorating the legacies of Martin Luther King, Jr. and Coretta Scott King. The patinated bronze sculpture stands 20-feet tall, 40-feet wide, and weighs 38,000 pounds. Designed by artist Hank Willis Thomas and MASS Design Group, The Embrace and the surrounding Freedom Plaza bring to life a 1964 photo of the Kings sharing a hug after Dr. King won the Nobel Peace Prize.
The Embrace, which has been in the works since 2017, was a collaboration during all phases of the project- from the founding of King Boston and the 2018 design competition, to The Embrace being shipped in several segments from the Walla Walla Foundry in Washington State, to the unveiling celebration in the Common last week. Since the earliest phases of the project in 2018, firm partner Sammy Nabulsi has had the distinct honor and pleasure of serving as pro bono counsel to The Boston Foundation and Embrace Boston from design development up until the unveiling. Attorney Nabulsi represented Embrace Boston and TBF in contract negotiations for the commissioning, fabrication, installation, and delivery of the artwork, and also negotiated first-of-their-kind agreements with the Boston Parks and Recreation Department and the Boston Art Commission on design approvals, construction access, and future maintenance of The Embrace. Attorney Nabulsi also supported Embrace Boston and TBF in the permitting of The Embrace and final acceptance of The Embrace by the Boston Art Commission.
Rose Law Partners is thrilled to have been able to celebrate the unveiling of The Embrace with Embrace Boston and TBF and to witness the excitement for The Embrace by the people of Boston, the Commonwealth, and the country. In addition to experiencing the magnitude of the sculpture's size and message, we encourage you to visit The Embrace and reflect on all of the hard work put in by Embrace Boston, TBF, and stakeholders from across the city and state to make this groundbreaking project a reality.
"This is the most important and special public artwork to ever be installed in this City, period." – Sammy Nabulsi